VidMate for PC Download Official – Latest Version 2020
        

Download VidMate for PC

In addition to installing on Android devices, you can also install the VidMate app on your computer. By installing bluestacks android emulator, you can explore abundant video resources on your laptop. The bluestacks android emulator makes the download process simpler and faster. The specific installation steps are as follows.

 

Step 1: Download & Install Bluestacks android emulator on your PC.

Get bluestacks >> https://www.bluestacks.com/

Step 2: Install VidMate apk file for PC.

Step 3: On the top of bluestacks you can see "My apps", "App center", "Help center" and "Pika world" tabs.

Step 4: Press the + (plus) sign and add the VidMate apk.

Step 5: Wait some seconds to finish installing.

Step 6: A VidMate app Icon will appear on your desktop that you can use to enjoy downloading movies and videos on your PC.


The VidMate app works well on Android devices, however, there are also some problems, such as the limited storage space of the mobile phone, which may not be able to download enough video resources if the storage is full; and the interface screen of the mobile phone is usually small, which may affect the viewing experience of users. Besides, it's always better to watch movies and video on the big screen of a laptop.

 

The main reasons or the benefits to download VidMate for PC are as follows. On the one hand, you can enjoy a bigger screen with a higher resolution. Laptops or PCs usually have much larger screen than android phones so that you can observe some specific details of the videos that you can't see by mobile phones. On the other hand, there are much larger storage space available on the PC, which means you can store much more movies, videos and music easily.

Users can download VidMate apk on android devices to use it anytime and anywhere or install it on laptops to enjoy bigger screen and larger storage space.

About VidMate App For PC

When it comes to the video download tools, you can't get around the VidMate for PC. VidMate app is a well-known free HD video downloader, mainly targeting overseas video websites. It supports a large number of websites, such as YT, Twitter, Tumblr, Facebook, Instagram, etc.

 
Overseas website navigator: a rich and high-quality website navigation can help you know which resources you want more quickly.
HD video downloader: download the video locally by clicking the download button.
Powerful download technology: support multiple video downloads at the same time with full stability.
live TV broadcasting: provide users with a variety of television stations live broadcasting, sports events live broadcasting, etc.
After downloading and installing the VidMate apk for PC, users can collect and download their favorite videos at will when they browse those websites with super-high quality at ordinary times. In addition to the download function, it is also an excellent video player. Users can preview and watch various video resources and live TV broadcasts online. Video fans, what are you waiting for?
Download VidMate Apk for Android
You can download and install the latest version 2019 of VidMate apk file from our official website or download VidMate apk from 9 apps, a international third-party mobile application distribution platform. Here is how you can perform VidMate install download for Android.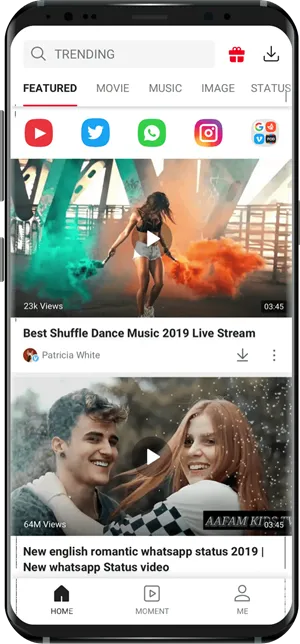 Step 1: Download VidMate apk file for android.
Step 2: Locate the APK installer file. (usually in the Downloads folder)
Step 3: Click Settings then switch on "unknown sources" and run the installer manually.
Step 4: Wait to install VidMate App.
Step 5: Get access to the best video downloader online after it gets installed.