Full HD Malayalam Movies Download – VidMate App
        

Through installing VidMate app, you can watch and download Malayalam movies easily and directly. 

This article will show you some basic steps.

 

Big Power of Malayalam Movies

Malayalam movies, Tamil movies and Telugu movies are very popular both in India and abroad, second only to Bollywood movies. In India, there are not only Bollywood, but also Tollywood, Kollywood, Mollywood and Sandalwood, which play a lead role in the whole South Indian film production base.

Among them, Malayalam movies are well-known for their realistic approach and gripping storyline. It doesn't matter if you are a huge fan of Mollywood or just starting with it, you should definitely have a try to see more Malayalam classic films. The following section will introduce three up-to-date Malayalam movies in detail.
Chandragiri- 2018 | 138 min
Overview: Upon learning the school manager's ill thoughts, Raghavan, the school's headmaster, sets out to keep his school from closing. But will he succeed?
Overview: Bobby gives up his seminary studies to marry a woman 7 years elder to him. They get married, but is it love or compromise?
Overview: Life is not going as planned for Roshni Menon, who gets posted in London and has to deal with a mean boss. One day, she happens to stop a man from jumping in front of the train, thus saving his life. But what she doesn't know is that this man is a multi-millionaire but with a dark past. With Mr. Richie Rich now taking keen interest in her life, she finds his dark past slowing clouding her future!
Download Malayalam Movies in Mobile
Step 1: Install VidMate on Your Android Device
VidMate app, a powerful aggregated audio-video player & live broadcast software, you can watch and download a large number of Malayalam movies from over 1000+ sites in overseas countries. It will only take a few minutes to download and install the VidMate APK file, and then, you can launch VidMate app. The movie downloading app boasts a clear and organized interface, which saves a lot of time of users.
Step 2: Enter "Malayalam movies" in the Search Bar
Users can obviously search the movie directly in the VidMate's search bar. After downloading VidMate app, just enter "Malayalam movies" in the top search bar, there will appear a huge amount of related full movies, users can choose to free download their favorite videos. The video source tags include "YT", "Movie", "Music", "TV Show", "Apps", "Google", etc.
Step 3: Download Malayalam Movies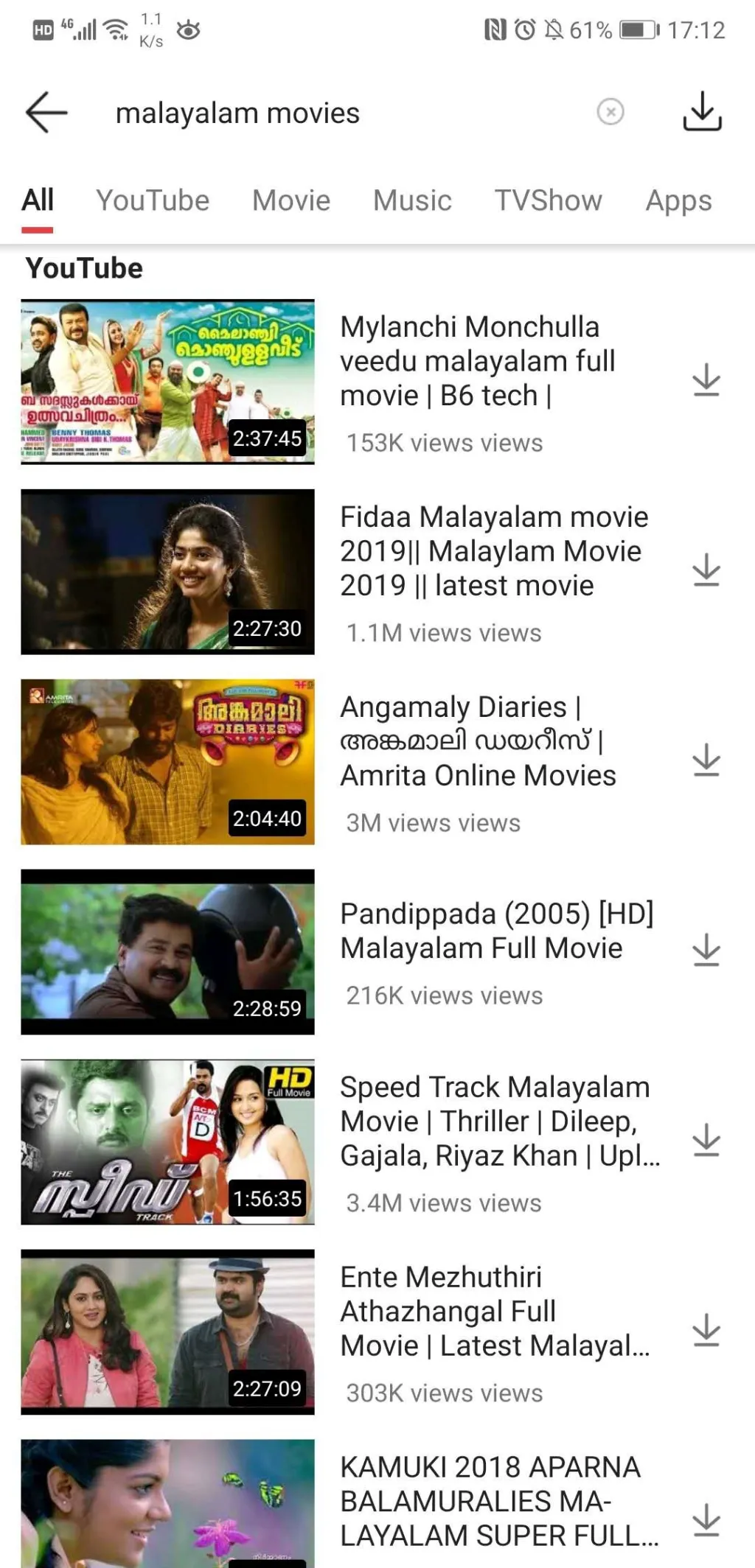 Next, just click the download button on the screen, users can freely choose to download their favorite Malayalam HD movies, videos, music resources and so on. At the same time, you can also choose the resolution of the Malayalam movies. Abundant free latest movie resources, HD videos and mass high-quality music from hundreds of famous international websites are waiting for you to download and explore!
Besides the movie downloading apps, there are also lots of websites to download and watch these Malayalam blockbusters, such as bobmovies.online, GoStream, Indian Movie Pro, Amazon Prime, Hotstar, etc.