WhatsApp Status Hindi Download, WhatsApp स्टेटस हिंदी डाउनलोड
        

WhatsApp has gained more and more popularity since it launched the "status" features a few years ago. Similar to Snapchat status and Instagram story features, WhatsApp Status enables you to express your in-time personal status where you can post pictures, videos or simply some texts and it will automatically be deleted after 24 hours. Many people search for WhatsApp Status Hindi either for expressing your feeling, for impressing your friends or just for entertainment. This article not only introduce a easy way to explore and download WhatsApp status Hindi, but also provide some videos and photo status for you inspiration.

Best App to donwload Whatsapp status

Get Video Downloader

 

WhatsApp Status in Hindi: Quotation Image

You can share WhatsApp Status with image to show your attitude towards life or how you are feeling right away. You may upload some quote status or attitude status to make your points or impress your friends. choose from the following various WhatsApp Status Hindi images or make your own special one out of inspiration.

 

 

 

 

 

 

 

 

 

WhatsApp Status in Hindi Video 

Apart from WhatsApp status images, WhatsApp Status video is also an innovative way to share and impress your friends. You can shoot and upload your own self-made videos. Or you can post short videos, on your profile as a temporary status. Here are several Hindi videos for your reference.

 
Enjoy some of the recent hit Hindi songs.
Relax and laugh out with Hindi funny short video!
Feel the love when you see heart-touching romance.
Heart-broken as you get absorbed in the sadness.
Useful App for Unlimited WhatsApp Status in Hindi
You may wonder where to get all kinds of WhatsApp Status download. Searching on google for WhatsApp Status in Hindi, many websites can be found for your choice. While most of them is a little bit complicated to use and you have to download within the browser, a more helpful WhatsApp status download app VidMate is highly recommended.VidMate has a full collection of all kinds of WhatsApp status videos and pictures. Via VidMate APP, you can free download any videos and pictures you like as status. Whether you are looking for WhatsApp status for love, WhatsApp status for friends, or WhatsApp status of life, you can explore and free download on VidMate APP.
Steps for WhatsApp Status in Hindi Download
Only a few steps are needed when you use VidMate to explore and download WhatsApp Status in Hindi.
First, Install VidMate APK on your phone for WhatsApp Status videos download.
Get Video Downloader
Second, find the tab on top called "status" and there will be listed out many of the Status videos. You can select your preferred language to get a more accurate recommendation. Or you may tap on the search bar to and enter keywords to search any other videos. If you would like to find WhatsApp status images, simply switch to the next tab "image" where a variety of images are ready for your selection.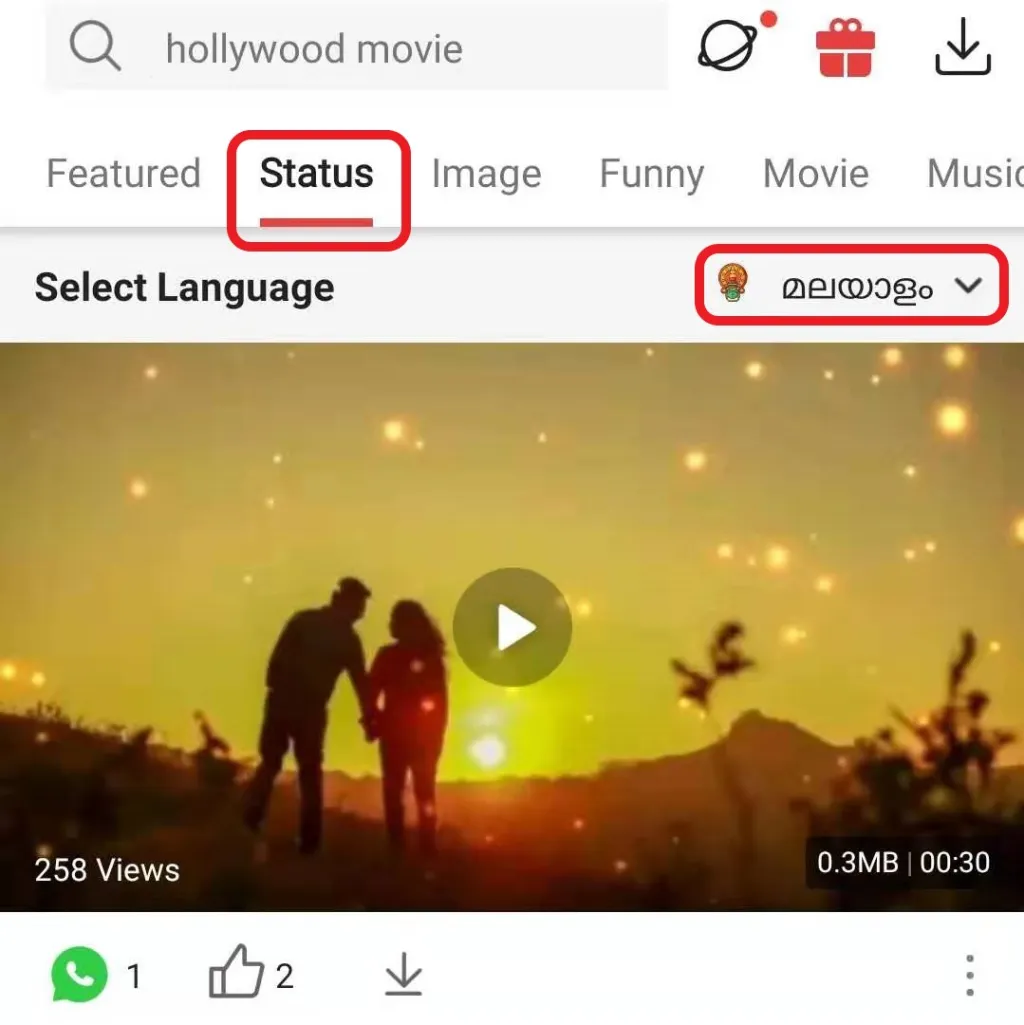 Third, view, download or share what you like. You can free watch online any of the WhatsApp Status videos and pictures via VidMate. If you want to save WhatsApp status videos or pictures, the download icon nails it. You may even find the format and resolution you prefer when downloading the videos. If you would like to directly share with your friends, click the button on the right corner of the video or picture and you are able to share it either to WhatsApp or Facebook.